It's that time of the year when we start to find ways to make our garden that perfect retreat. As we continue to spend so much time at home transforming our gardens –  extending our living space outdoors continues to be a priority. Whether you want to enjoy a rainy cuppa in the morning or shade from the sun on a BBQ evening our awnings have you covered.
If you're looking to make a big impact on your home's outdoor living space, then you should consider adding an awning. An awning is an attractive addition to any patio or deck area and can provide both aesthetic charm and practical function. But how do you choose the right awning for your home? Read on to find out!
Why Choose an Awning?
Awnings extend out from your windows, patio, or deck area to provide protection from the sun, rain, and other elements. They also add style and interest to the exterior of your home. Since they are available in many different styles and colours, you can easily find one that fits your décor! Plus, awnings are relatively easy and inexpensive to install.
Also, awnings can benefit your home in the following ways:
Extending your living space
A canopy or awning will give you the benefit of continuing your living space outdoors, giving the illusion of more space in your home. Not only will this add immediate enjoyment to the way you and your family utilise your home and garden but it will enhance your house's appeal to potential buyers further down the line.
Protect yourself from the elements
We all get frustrated when it's a warm summer evening but the rain descends; our range of awnings allow you to enjoy your evening whilst sheltering both your family and your furniture from those annoying elements.
If in summer your living area or dining room is exposed to the sun making for an unbearable hot environment. Our retractable awnings will allow you to regulate the temperature without having to close your curtains all day.
Where To Put An Awning
A good place to start when deciding where to put an awning is by looking at which areas of your outdoor space need some shade or protection from the elements. Do you have any windows that get direct sunlight during certain times of day? Or maybe there's part of your patio or deck that could use some extra coverage? Consider these questions when choosing where to install your new awning!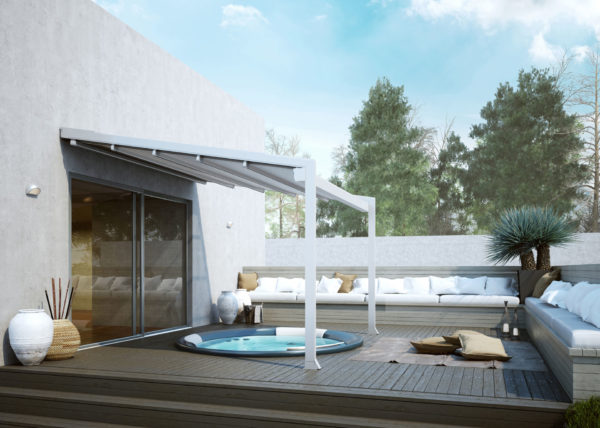 Types of Awnings
When shopping for an awning, it's important to know what type would best suit your needs. Retractable models are popular because they can be opened and closed as needed. Fixed models stay in place all year round for added stability and weather protection. There are also free-standing models available if you don't want to attach anything directly onto your home.
Considerations When Choosing An Awing
Now that you know why an awning is such a great addition to any outdoor living space, it's time to start narrowing down which type will be best for you.
Think about how much sun or shade you want in certain areas; this will help determine whether retractable or fixed models will be better suited for your needs. Getting the size of your awning just right can be trickier than you originally think. Naturally the sun moves position all day so its key to ensure your awning is big enough to provide the right amount of shade you require.
Also consider materials—do vinyl or aluminum options fit better with your décor? Also, select a fabric that is durable – let's be realistic we live in Wales and that largely means we get a bit of rain! Choosing a durable fabric will prevent any major weather mishaps.
Lighting and heating – When that sun disappears temperatures can drop quickly through adding a heating solution this means you don't have to quickly pack up and move back indoors but instead you can relax and enjoy the rest of your evening
Finally, measure the area where you plan on installing it so that you can get accurate measurements when shopping around! Take a look at our range to give you some more inspiration.
Final Thoughts on Choosing an Awning for Your Home
Adding an awning is an excellent way to spruce up any outdoor living space while providing some much-needed shade and protection from the elements. With so many different types available—from retractable models made of vinyl or aluminium, to fixed models in various sizes—you can easily find one that will fit perfectly into your budget and décor!
Just remember these tips when choosing and installing an awning for optimal results: measure the desired area beforehand; choose materials that complement existing décor; decide if retractable or fixed models will work better; research product reviews before buying; and hire professionals for installation if needed! With these considerations in mind, finding the perfect outdoor covering won't be such a daunting task after all!
In fact, a bespoke awning can be fitted at the fraction of the cost of an extension so for us they are a win win addition to your home. Here at Solar we offer a wide range of awnings from introductory patio models through to large scale commercial solutions.