Summer is here, and it's the season to make the most of the great outdoors! Creating the perfect outdoor living space is a surefire way to enjoy the sunny season. No matter what size your outdoor space is, you can create an alfresco sanctuary that's ideal for entertaining, relaxing, and unwinding after a long day. In this blog post, we'll guide you through our expert tips on how to create the ideal outdoor living space in the summer.
How to Create a Patio Living Space
A patio is a perfect area to extend your indoor living space. With a few tweaks, you can make it more comfortable outside. Choose comfortable seating chairs, a coffee table, and an outdoor rug to create an ambiance that's as cozy as your living room. A pergola or a canopy over the patio can also provide shade, making it cooler and more comfortable. Filling the space with plants and herbs can add colour and fragrance and make it a more personal space.
Which Type of Awnings Suit Patio Outdoor Living Spaces
Awnings provide great protection from the sun and can significantly improve the ambiance of your patio. They come in a wide range of materials, colours, and patterns to suit any outdoor setting. With retractable awnings, you can quickly get the best of both worlds: a shaded patio on a hot summer day and stargazing at night. Retractable awnings do not require a permanent structure and can be customised to suit your patio's style and size. You can choose from a manual crank, motorised with a remote control, or a smart-automatic control system.
Why Awnings are Great for Alfresco Dining
Having an outdoor dining area is an excellent way to complement your outdoor living space. But the sun's glare can make dining outside unpleasant, which is why you need awnings. Awnings offer much-needed shade and create comfortable outdoor dining areas that protect you from the sun's harmful UV rays. Consider investing in awning lighting, which will enable you to keep dining long into the night.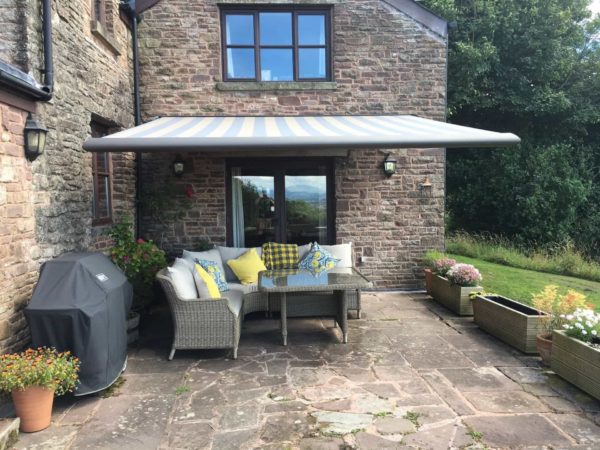 Our Hints and Tips for Creating an Ideal Outdoor Space
Finally, here are some tips on how to create the best outdoor living space possible:
1. Define the Space:
Before you start decorating, you need to define the space. Start by thinking about what you want to use your outdoor space for – will it be used for dining, lounging, or entertaining? Depending on your answer, you'll want to dedicate different areas of your yard for each activity. For example, if you plan to have dinner parties, you'll need to invest in outdoor dining furniture and a large cooking area, whereas if you want to use your space for lounging, you'll need a cozy area with comfortable seating and low-lighting. Also, consider adding some greenery or plants to give your space a natural and serene feel.
2. Add Comfortable Seating:
Once you've defined your outdoor living space, the next step is to add comfortable seating. Consider purchasing weather-resistant outdoor furniture that complements the overall look of your outdoor space. You don't have to spend a lot of money either. You can repurpose old furniture and give it a new life by giving it a new coat of paint or fabric. Don't forget to add some cushions or outdoor pillows to keep your space cozy and comfortable.
3. Provide Ambient Lighting:
A great outdoor living space isn't complete without ambient lighting. You can add string lights, lanterns, or even candles to create the perfect atmosphere for your outdoor space. Lighting creates a warm and serene ambiance and allows you to enjoy your outdoor space even after the sunsets. Consider investing in solar-powered lights to cut down on your electricity bill.
4. Food and Drinks:
Whether you're grilling or just enjoy a cold drink, food and drinks are essential for any outdoor living space. Consider adding an outdoor kitchen area, complete with a grill, countertop, and seating, or have a portable grill on hand. For drinks, keep a cooler stocked with your favourites, or create a bar area complete with a bar cart and bar stools.
5. Think About the Details:
From a fire pit to an outdoor movie theatre, don't forget to think about the details that will take your outdoor living space to the next level. Consider adding a fire pit to cozy up to on chilly nights or create an outdoor movie theatre complete with comfy seating and a projector screen. A few additional decorations or accessories like outdoor rugs, candles, and planters can also make a massive difference in your overall space.
Our Final Thoughts
Creating an ideal outdoor living space is a wonderful way to enjoy summer and the great outdoors. With our tips, you can extend your living space outside, and you won't have to leave the comforts of your home. With a combination of comfortable seating, sturdy awnings, and ambient lighting, you can enjoy an outdoor living space that is perfect for entertaining and relaxation. All in all, your home's exterior is just as vital for summertime enjoyment as the interior. So, let's get creative and enjoy the bright days!