Wood blinds can be a great addition to any home or office space. They are made from high-quality wood, and come in a variety of styles, colours, and sizes. Plus, they offer a number of benefits that make them perfect for any room in your house or workspace. In this blog post, we will explore why wood blinds are the ideal choice for sprucing up your windows.
The Difference Between Wood Blinds and Shutters
Wood blinds and wood shutters are different. Wood blinds come in a variety of colours, styles and sizes and they are made from high-quality wood. They block the light from coming in your room and they are easy to clean. Wood shutters also block the light but usually have panels that can open or close for more light control.
The Benefits of Wood Blinds
Wood blinds have numerous benefits, many of which make them an ideal choice for any space. Here are just a few of the advantages that blinds can offer:
• Durability: Made from hardy materials such as basswood or poplar, making them highly durable and long-lasting. This is especially important if you are putting them in a space with high foot traffic or a lot of activity.
• Insulation: Wood blinds can help to insulate your windows, keeping the temperature more consistent and reducing energy costs.
• Variety: They come in an array of colours and styles, meaning there's something to fit any home or office space.
• Easy Maintenance: Because they require only occasional dusting and wiping down with a damp cloth.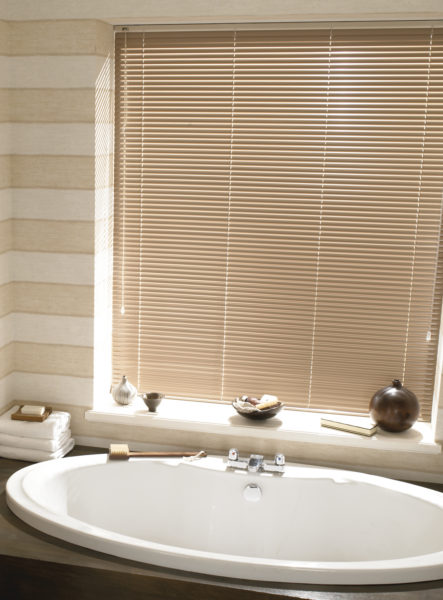 When to Choose Wood Blinds
Wood blinds are an excellent choice if you want something that is durable, stylish, and easy to clean. They are also good at blocking out light and heat, making them ideal for bedrooms or living rooms where you want to keep the sun out during the day. Additionally, wood blinds come in many different colours and finishes so you can easily find one that suits your style and decor.
What Types of Rooms Are Best Suited to Wood Blinds?
Wood blinds can work in virtually any room of your home or office space. They work especially well in bathrooms or kitchens because they are moisture-resistant and easy to clean. A must for these high-traffic areas! Additionally, wood blinds have a timeless look that makes them a smart option for larger spaces like living rooms or offices where you want to create a warm atmosphere without sacrificing style.
What Type of Style and Decor Do Wood Blinds Best Suit?
Wood blinds look great with almost any type of interior design style. If you're going for a more traditional look, then wooden Venetian blinds would be an excellent choice as they offer classic beauty with modern convenience. If you're looking for something more contemporary, then faux wood Venetian blinds could be the way to go. They offer all the beauty of real wood with added durability and ease of maintenance (and they're less expensive too!).
Different Types Of Wood Blinds:
• Wooden Venetian Blinds – These classic blind types feature horizontal slats which can be adjusted using cords or wands to control light levels while still allowing some outside visibility. Wooden Venetian blinds offer timeless beauty with modern convenience making them perfect for both traditional and contemporary homes alike.
• Faux Wood Venetian Blind – These attractive alternatives to wooden Venetians combine the classic look of real wood with added durability (they won't warp due to exposure to moisture) and ease of maintenance (they don't require frequent cleaning). Plus they're typically less expensive than their wooden counterparts!
To read our article on the pro's and cons of Wood vs Faux Wood Venetian Blinds click here
How to Measure Your Window to Fit Wood Blinds
To measure your window for wood blinds, first use a measuring tape to get the exact width and height of the window. Write down these numbers so you can remember them when buying wood blinds. Then decide if you want inside or outside mounting of the wood blinds. Inside mounting means they will fit inside the frame, while outside mounting means they will hang outside the frame. Finally, add 3 to 4 inches to both measurements and write down this number too – this will be how wide and high your wood blinds should be!
Final Thoughts on Wood Blinds
For those looking for an attractive way to spruce up their windows without breaking the bank, wood venetian blinds may be exactly what you need! Whether it's wooden Venetian blinds adding classic beauty with modern convenience. Or faux wood Venetian blinds giving off the same look at an affordable price. There is certainly something here for everyone! Not only do these options give off an amazing aesthetic but their functionality is top notch as well. Also, they offer added privacy while still allowing some natural light into your space during those dark winter months! With all this said it's no wonder why so many people choose wood Venetians when it comes time to upgrade their window treatments! So if you're looking for a great way to add both style AND function – let us help guide you towards finding the perfect set of wood Venetian blinds today!