Choosing blinds for a bay window is trickier than most conventional windows. So, we have provided some guidance to help you make the right choice to bring bay windows to life.
What Are Bay Windows?
Bay windows are often angled and protrude out from the wall of the house. They can also be curved in shape.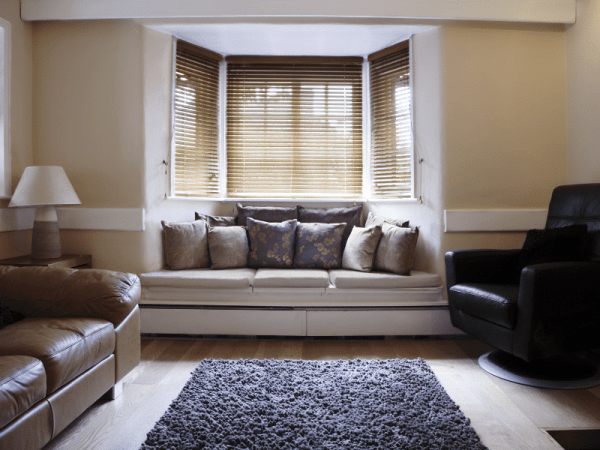 Why Bay Windows Need Well Thought Out Designs
They are often found in period properties that have stood the test of time. They offer us wonderful original features whether that be cast iron fireplaces, beautiful brickwork or architectural treats that are big bay windows!
Bay windows give any property an elegant look, allowing natural light to flood your property. Although they can cause headaches to dress.  Their shape and size can often make it difficult to know what blinds are best. Also, as they are often found in period properties so knowing how to blend the blinds in with the property character is a key balance to get right.
Which Blind Types Suit Bay Windows?
Seeking chic and modern bay window blinds? Wooden venetian blinds work beautifully to enhance this window type. They allow you to have more control over the light coming in. Also, as these slats can be adjusted to be partially or fully open, illuminating rooms through the entire window. These versatile blinds go with almost everything and it's no wonder that this is one of our most popular blind types!
For lovers of low-maintenance homeware, wooden blinds are delightfully easy to clean.
Great insulators – they reduce noise pollution and increase energy efficiency!
Choose between moisture-resistant & flame retardant faux wood or real wood for an affordable shutter look.
Finish with tapes if you desire a traditional and luxurious appearance.
A popular choice for conservatories and offices, vertical blinds for bay windows can work well. This ultra-simple style exudes sophistication when choosing muted tones and neutrals. Alternatively, opt for bold colours/patterns for an eye-catching statement!
These blinds are great for square bay windows, as wider slats help to prevent those awkward gaps when closed.
Vertical slats elongate bay windows subtly, emphasising their magnificent height.
Take your pick from a variety of styles, with fabrics available in blackout, allergy-reducing, and flame retardant.
Akin to the roller blind, classic roman blinds are just that bit more luxurious. They feature an elegant layered finish that promises sophistication. Also, Roman blinds on bay windows will add a touch of texture and come in an array of colours and patterns.
Roman blinds provide excellent insulation when paired with a thermal lining, perfect for those larger bay windows.
Made-to-measure roman blinds will fit snugly into your bay windows, due to their narrow depth profile.
The blackout lining option will allow you to re-create the roman blinds bay window aesthetic in bedrooms too.
A simple and stylish option for bay windows. Furthermore, our diverse range of roller blinds gives you the choice of fabrics, functions, and designs. Whether you want voile roller blinds for privacy while keeping rooms bright. Or blackout roller blinds to eliminate unwanted light. Alternatively, dim-out blinds can be a good choice for a compromise between the two!
If you plan on fitting roller blinds into a bay or box style window to achieve a seamless look. Then we recommend to add separate made-to-measure blinds into each individual section of your bay.
Also, we advise matching the controls to the side of the blind the window fits on e.g. left-hand controls for a left-hand pane.
Our blinds have the fabric roll towards the window pane. This provides an increase in insulation and reduces the light bleed.
What Are my Other Options for Bay Windows
Maybe blinds for bay windows are not your to your taste or you are finding it difficult to find a suitable blind that works for your property or room.
So, below are some of our top tips for stylish window treatments that will create a stunning focal point in any room.
Our Tips for a Stylish Bay Window
Select a made to measure product – bay windows are notorious for their difficult angles and curves. Selecting a made to measure blind, curtain or shutter will ensure a perfect fit and control light whilst avoiding unnecessary gaps offering more privacy and better energy consumption. For an extra touch of luxury, why not select elegant Romans and set the blinds in the separate segments of your bay window at different heights to create intrigue.
Make sure you retain the warmth – Fully-lined curtains are perfect for creating that sophisticated finish and a warm and cosy environment. Bay windows often mean a little more heat escaping. But practically it is worth considering thermal lined curtains if draft is a problem in your home or you can create a layered look with curtains over your blinds or shutters.
Create a striking look with shutters – look no further than our tailored to your home shutters which come in a variety of styles. Shutters immediately transform a bay window adding elegance, class and style; not only increasing curb appeal but shutters are known to increase your house price value. Opt for a cafe style shutter to cover just the bottom of your window leaving the top exposed letting that craved light in or full length shutters for complete light control.
Whichever option you choose it really is a personal choice, and as long as your window dressing works practically for you, you can choose to make a real statement, or let your graceful windows speak for themselves.