Vertical blinds are not the easiest item to clean in the house and they are often neglected. But just like everything else in the house, keeping on top of cleaning your blinds can help maintain their look for longer.
What You Need Before You Clean
To help you get all your tools and preparation before you start cleaning, here's what we recommend:
Microfibre cloth
Dust cloth or feather duster
Vacuum cleaner with a brush attachment
Mild soap
Bathtub of warm water or washing machine
Sponge (for scrubbing tough stains)
Towels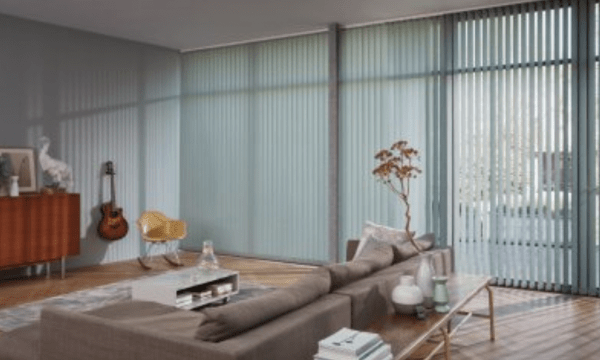 Step by Step Guide to Cleaning Vertical Blinds
Step 1: Give the blinds a quick dust down
With a dusting cloth or feather duster give the blinds a quick dust down. You can even use the hoover with the brush attachment to pick up all the loose dust. This first step prevents the dust from blowing all around the room before you move to the next step, to remove the blinds from the headrail
Step 2: Remove the blinds from the headrail
To remove the blinds you will need to unhook the louvres (slats) from the headrail. Once you have removed the louvres, gently place the blinds flat on a clean surface and make sure they are fully splayed out.
Then give the blinds a more thorough dusting just like in step 1. This will ensure you have left no dust on the blinds before moving onto wiping the blinds with a damp cloth.
Step 3: Wipe the blinds with warm water
We recommend that you fill a bucket, basin or your bathtub with warm water so you can wipe away any dirt or marks. We advise that water is no hotter than 30 degrees Celsius or 86 degrees Fahrenheit, otherwise you may damage any glue that is sealing fabrics together. Also don't soak the blinds in the water as it may cause the fabric to shrink and damage the fire-retardant additive.
Step 4: Target marks with a soft cloth or sponge
Give the blinds an all over wipe and gently scrub on any marks or spots. For stubborn stains you can use a gentle non-bio washing detergent or a detergent for delicate fabrics to help lift the marks.
Step 5: Lay blinds out to dry
Once you are happy with how clean the blinds look, lay the blinds out to dry. Although, it's important that you do not hang the curtains so the fabric does not stretch and lose shape. Simply lay the blinds on a flat surface and make sure there are no crimps or bends in the blinds.
Step 6: Hang clean blinds on to the headrail
Once the blinds are thoroughly dry, you can rehang the blinds on the headrail. Simply clip each louvre back on to the headrail.
FAQ's on Cleaning Vertical Blinds
Can you wash vertical blinds in the washing machine?
Yes, you can wash vertical blinds in the washing machine. But first check the label on your blinds that they are machine washable. If they are machine washable then carry out step 1, 2 and carefully roll them into a zip up machine washable bag to prevent any damage to the blinds. Next, set the washing machine to a delicate / low / easy spin and use mild non bio detergent suitable for delicate fabrics. Lastly, follow steps 5 and 6 to make sure you dry them correctly.
Can you tumble dry vertical blinds?
No, we don't recommend you tumble dry blinds. The blinds need to dry naturally so they don't shrink and lose their shape. Also, a tumble dry may damage any glue sealing in your blinds.
Can you steam clean vertical blinds?
Yes you can. Just be sure to not have the temperature on too high. We recommend you keep the temperature to below 30 degrees Celsius or 86 degrees Fahrenheit (or a low heat setting). Also, make sure you have performed steps 1 and 2 as highlighted above before using the steam cleaner.
How do you clean mould off vertical blinds?
Mould will need to be removed as soon as possible. Not only is mould damaging to your health but it can cause marks on the fabric that can become permanent stains if left untreated. We don't recommend bleach based solutions as they can either be too harsh for the fabric or cause discolouring. We recommend trying a natural solution such as white vinegar, lemon juice or tea tree oil mixed with water.
How often should you clean vertical blinds?
The good news is that you won't need to go through the above steps too often. We recommend once every couple of months. You may want to clean them more frequently for rooms that attract more dust than others or windows that are more prone to condensation and mould. For any stains or marks that appear you can do a quick spot clean to remove the marks as early as possible.
Check out our range of vertical blinds, and call in the showroom or contact us if you have any questions about looking after your blinds.