Decorating your home interior this autumn doesn't have to be difficult or expensive. With a few simple tips and tricks, you can quickly and easily refresh your space for the new season.
While some may prefer a more minimalist look for all seasons, others may enjoy changing their home's appearance to reflect the current season. And when it comes to autumn, there are plenty of ways to do just that!
How Autumn Compares to Other Seasons for Interior Design
Compared to summer, autumn interior designs tend to be warmer and more cozy. This is due in part to the colours that are typically associated with the season – oranges, yellows, and reds – as well as the textures that are often used, such as plush fabrics and furry blankets.
Another key difference between autumn and other seasons is the focus on comfort. In winter, homes are often decorated with heavy fabrics and many layers in order to keep out the cold. In contrast, autumn decorating often aims to make people feel warm and comfortable inside their homes. This can be done through the use of soft textiles, ample seating, and plenty of heating options.
So if you're looking for a way to change up your home's look for autumn, consider using some of these tips! With a few simple changes, you can create an environment that's perfect for enjoying all of the wonderful things that this season has to offer.
50 shades of green – yes green!
Olive, sage, mint, grey-green and khaki – you name it, it's appearing in many Autumn interior trends from carpets to walls and window decorations. The right green offers endless possibilities – it can be used to fulfill your desire for more green space and nature or to channel your inner peace, balance and harmony.
Sophistication and refined glamour are the words here, rose pink and pewter mix together to create a chic look this autumn. Pink is inviting and effortless to decorate with – almost becoming a neutral colour and the backdrop of many a glamorous window dressing.
Making space appear bigger this Autumn! 
There are lots of ways to trick the eyes into thinking your space is larger than it is. Make a small room look taller by hanging shelves higher up on the walls.
To make a room appear wider, pull furniture like sofas, TV's or desks away from the walls slightly, providing the desired feeling of space.
Also, using stripes in your decorating can help a room appear higher – depending on which way you use them! Orient the stripes on your furnishing or painting to match the longest/tallest part of the room – drawing the eye in that direction.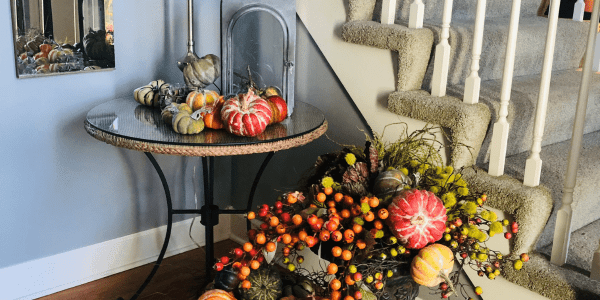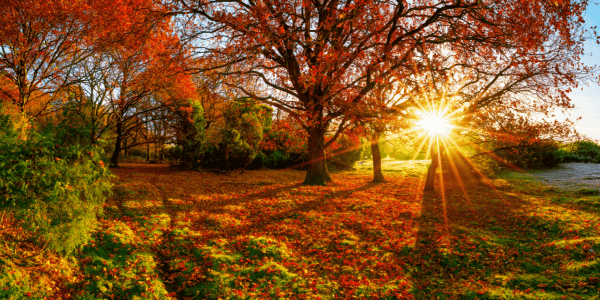 How to Use 2022's Dulux Colour of The Year This Autumn
For this year's Dulux colour of the year, 2022, we're going bright with Skies. This cheery hue is perfect for injecting a little bit of life into your home during the autumn months. Here are a few tips on how to use it in your decorating:
– If you want to make a room appear bigger, try painting one wall in Skies. This will help to draw the eye and make the space feel more open.
– To create a warm and inviting atmosphere, use Skies in combination with other autumnal colours like oranges and browns.
– If you're looking for something a little bit different, why not try using Skies as an accent colour? Try pairing it with white or black for a bold look.
– As always, when it comes to decorating, experimentation is key! So have some fun with Skies and see what works best for you and your home.
Which Blinds Could You Choose for Autumn
When it comes to choosing blinds for your autumn decorating, you'll want to opt for something that will complement the colours and textures of the season. Some great choices include sheer or linen blinds in earthy tones like terracotta or periwinkle, while natural materials such as wood or bamboo can also add a warm, welcoming feel to your home. So why not take a look at the many different options available and find the perfect blinds for your autumn décor!
Which Curtains Could You Choose for Autumn
Finally, when it comes to curtains for fall decorating, you'll want to look for rich colour and texture that will help set the mood for autumn. Some great options include velvet in jewel tones like emerald green or burgundy, or textured fabric with intricate patterns in rich autumnal hues. With these tips, you'll be able to create a beautifully decorated home that perfectly captures the spirit of the season!
Which Room Should You Choose to Improve this Autumn

When it comes to decorating your home for autumn, the options are endless. But if you're looking for a room that's perfect for enjoying all of the wonderful things this season has to offer, the living room is definitely the best choice. Here are a few tips on how to make your living room look its best this autumn:
– Use warm colours like oranges and browns to create a cosy and inviting atmosphere.
– Add some plants or flowers to bring in natural elements and freshness.
– Hang some seasonal decorations like leaves or pine cones to really capture the spirit of autumn.
– Use soft fabrics like wool or cashmere to keep you warm on chilly days.
– Put out some comfortable seating so you can relax and enjoy spending time with family and friends.
Get Started With Your Autumn Ideas
With a little bit of creativity and some simple tips, you can transform your space into a cozy and inviting haven that celebrates the season. So why not get started today and create a home that's perfect for autumn!