Child Safety
Solar Sunshades are proud to be members of the British Blinds and Shutters association (BBSA) and fully support the "Make It Safe" campaign in relation to child safe blinds. We prioritise baby proof blinds, blinds without cords and other method of keeping your children safe in and around your home.
Child Safe Blinds & Law EN13120
Wondering where to buy child-safe blinds?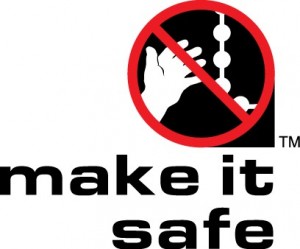 Since its launch, the Make It Safe campaign has pressed for safer window blinds and the promotion of safety for all window treatments.
The Make It Safe campaign has seen:
The BBSA take a leading role in the development of the European wide standards for window blinds, specifically concerning child safety.
The creation and promotion of a website, retail promotional materials and internationally recognised videos promoting safer window treatments.
The provision of expert advice to regulators and those responsible for standard development, as well as assisting media and established safety organisations to appropriately promote safer window blinds.
The instance of early adoption of safety regulations by all of its membership.
The Make It Safe campaign endorsed by the Royal Society for the Prevention of Accidents (RoSPA) and the Child Accident Prevention Trust (CAPT) and referenced by many other organisations.
As an accredited member of the BBSA we have been closely involved in the Make It Safe campaign and the changes required in the way internal blinds are made, sold and professionally installed.
What does this mean to me?
Solar are required to manufacture and install your window blinds as per the regulations outlined in European Law BS EN13120. For further details on what this means to your blinds, please download the below home owners guide to child safe blinds. This should help you understand the regulations. Should you need anything clarified, please get in touch with our friendly sales support team.