At Christmas time, it can be difficult to come up with the perfect home decor and interior design that reflects the festive spirit of the season. Whether you're looking for colours, temporary furnishings, or Christmas decorations, there are a few key tips that can help you create a warm and inviting atmosphere during the holiday season.
There's nothing quite as cosy as cuddling up at home surrounded by Christmas lights. Whether your style is traditional, minimal, Nordic or kitsch, Christmas decorations fill the home with a little festive magic.
Read our tips below for getting the perfect festive feel in your home:
Harmonise with Your Décor
For the most flattering festive style, follow the style cues from your interior choices. Sleek, minimalist homes are a great match for minimalist decorations in cool tones – and if you've got a touch of glam in your décor, then add a few Christmas crystals! If your style is more rustic, a Nordic style with craft touches will compliment your look.
To create continuity throughout your home, try and have a nod to your overall theme in every room you decorate, whether that's just hanging a bauble or two on your kitchen cabinets, or having the same colour tinsel wrapped around something in each room. If you're going for a colour scheme with lots of colours, try and pick one colour to "lead" the style of each room, and tie it all together with ribbons or garlands that incorporate all the colours in connecting rooms and corridors.
Choosing your Colours
One of the most important things to consider when decorating your home for Christmas is the colour scheme. Many people tend to gravitate towards rich, festive reds and greens for their holiday decor, but there are many other options as well.
There is no right or wrong colour scheme for Christmas, but there are themes that will flatter some homes more than others. If your home is full of warm tones, reds and gold will complement your décor best, for cooler tones, blues and silvers will flatter your style.
That said, if your home style is monochromatic, or features lots of white, a bright pop of zingy red or green can create a gorgeous focal point for your festive display.
You can also match your colours to your theme – Classic Christmas styles lend themselves best to red and gold, or silver and green, where Nordic and minimalist styles looks best with white and silver. Furthermore, if you want a more modern or minimalist approach, consider using cool grays and whites to create a clean, bright look.
To create a gorgeously harmonious décor theme, choose a monochromatic colour theme, with decorations in all hues and shades of your chosen colour. So, add texture with garlands, textured baubles and nosegays to for the perfect finishing touch.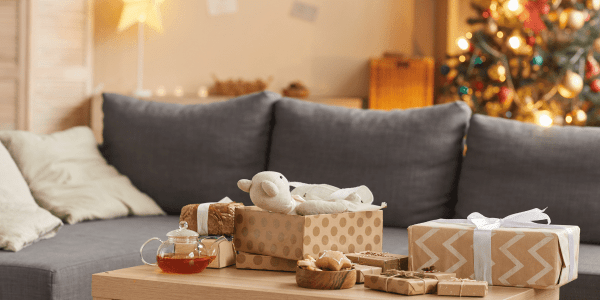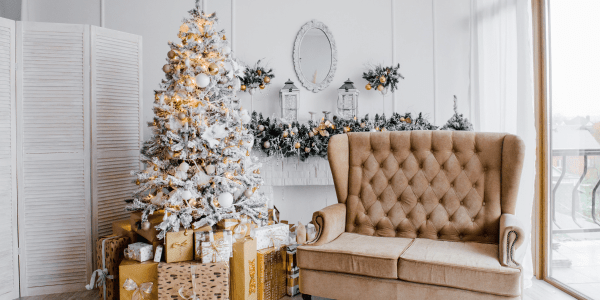 Creating the Perfect Tree
The Christmas tree is always the crowning jewel of any homes Christmas décor, so making it look beautiful is vital to bring the whole look together.
When it comes to decorating your Christmas tree, there are many different options to consider. One of the most important things is to choose a style that matches your personal taste. If you prefer a more traditional look, then you can stick to classic ornaments like balls and tinsel. However, if you're looking for something more unique, there are plenty of other options to choose from. You could try using themed ornaments, such as snowflakes or Santa Clauses, or you could go for a more eclectic look by using a variety of different ornaments in different shapes and sizes.
Another important consideration when decorating your Christmas tree is the placement of the ornaments. Many people prefer to hang them in a specific order, either by colour or type. However, if you're looking for a more creative approach, you can also try mixing up the placement of the ornaments for a more interesting look.

How to Light Up Your Christmas Tree
When it comes to lighting your Christmas tree, there are many different options to choose from. Some people prefer to stick with traditional string lights, while others opt for a more whimsical look by using fairy lights or candles instead. Whatever you choose, be sure to light up your tree from all angles so that it really stands out and looks its best! So whether you're looking for a more understated approach or something a bit more bold, there are plenty of ways to create the perfect Christmas atmosphere in your home. After all, Christmas is about creating memories and enjoying time with family and friends, and having a beautifully decorated home is the perfect way to set the mood.
When it comes to hanging baubles, start from the inside out, using plain baubles as a base, (a cheap multi-pack will work wonders) then add in more decorative or expensive items once you have a basic coverage of colour. To give the tree a sense of depth, hang larger baubles closer to the centre of the tree, and use smaller ones nearer the end of branches.
If you use a fake tree – don't forget to fluff the branches to make your tree look fabulously full. Once the tree is out of the box, give it a good 20-30 mins of arrangement and fluffing time – if you invest a little time at the start, it will pay dividends with the finished product.
Tips for Choosing Temporary Furnishings
Another important consideration when decorating your home for Christmas is the use of temporary furnishings. Many people enjoy adding holiday-themed decorations to their space, such as string lights or festive wreaths. However, these items can be a hassle to take down once the season is over, so it's best to opt for temporary alternatives instead. For example, you could try using colorful Christmas stockings or small trees to add a festive touch to your home without having to commit to a more permanent fixture.
Some prefer simple and understated holiday accents, while others prefer ornate and intricate displays. Either way, there are plenty of ways to make your home look festive and merry during the holiday season – just be sure to choose decorations that match your style and taste!
One of the best ways to make your room look cosy for Christmas is to hang some garlands around the room. Not only are they festive and pretty, but they can also help to add some extra warmth to the space.
Another great way to create a Christmassy atmosphere in your home is by using candles. Not only do they create a cozy atmosphere, but they also smell wonderful and can really get you in the holiday spirit.
Finally, another easy way to make your room feel more like Christmas is by adding some Christmas ornaments. Whether you choose traditional ornaments or something more unique, they can really help to bring the spirit of the season into your home.
How to Decorate Window Spaces and Blinds
When it comes to decorating for Christmas, many people think of things like trees, ornaments, and garlands. But there are other ways to get into the spirit of the season, too! For example, you can decorate your windows with Christmas decorations.
There are many different ways to do this. You could hang a Christmas wreath on your window, or you could put up a Christmas tree silhouette. If you want something a bit more festive, you could try hanging Christmas lights or tinsel around your window blinds. This is a great way to add some extra Christmas cheer to your home and to make your windows look festive and welcoming.
So if you're looking for a quick and easy way to add some Christmas spirit to your home, consider decorating your windows with some traditional or unique Christmas decorations. It's a great way to get in the holiday spirit and to create a warm and festive atmosphere for all who visit!
Home Decoration Trends for Christmas 2022
Some Christmas traditions stay with us forever, but just like fashion and interior design, Christmas trends change every year. While it always adds a little something special to include old decorations or traditional elements every year, if you want your home to look on-vogue for 2019 – these are the Christmas colour schemes of the year.
Natural Christmas – There's still a place for tinsel and baubles in this eco-friendly theme, just interspersed with more natural elements, like twig garlands, pine cones and sprigs of holly.
Blue Christmas – Bring a touch of whimsical glamour to your home by introducing hints of peacock, cerulean and aquamarine into your white and silver colour scheme.
Lots of Lights – Everyone feels a cosy glow at Christmas, but this year it's all about getting that glow to the max! Use rope lights, fairy lights and candles to create a warm ambiance in your decorating.
For more tips and tricks for creating the perfect Christmas vibe – check out our other blogs, or our Pinterest.