Having brand new window furnishings can give your home a makeover – but to keep your windows looking beautiful, blinds, curtains and shutters will all need regular cleaning. Keep your blinds, curtains or shutters looking good as new with our cleaning tips below!
How to Clean Blinds
Aluminium blinds can collect dust – so frequent dusting with a microfibre cloth will keep them looking perfect. For extra thorough cleaning, use a cloth dipped in cleaning solution and warm water – or a cleaning wipe – to run over each slat.
Cloth blinds like Roman and roller blinds can be cleaned with a vacuum cleaner – provided you use a soft furnishings or brush attachment. For stubborn stains and marks, gently rub a damp cloth with a little fabric stain remover over the spot, and pat dry with a paper towel.
Vertical blinds are very low maintenance – especially if they are opened and closed regularly. An occasional wipe down with a duster or cleaning cloth should be enough to keep these blinds looking lovely.
Wooden blinds require a little more TLC, as wood is porous, it's easy to stain blinds by using too much cleaning solution on them. To remove dust – simply pull up your blinds until they are bunched together with only a little space between them, then run over the section with a vacuum cleaner using the soft brush attachment. To remove marks, dunk a microfibre cloth into a bowl with warm water and a little washing up liquid, then wring out until nearly dry and wipe over the slats.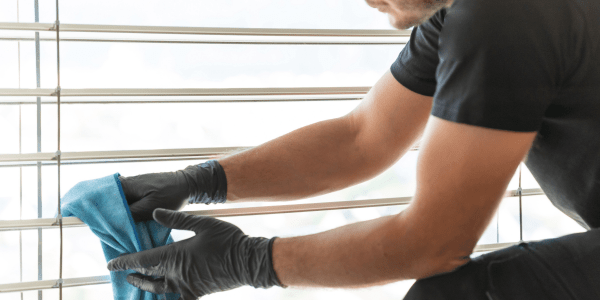 How to Clean Curtains
There are a number of options for washing curtains, and your approach may need to vary based on the colour and weight of your fabric. Remember to always follow the manufacturers' guidelines and check the labels before washing curtains.
For a quick and easy removal of dust, take curtains down and peg on the washing line to let the breeze blow out the dust and refresh the fabric.
If you need to wash your curtains, light weight curtains can be cleaned in the washing machine. Use the delicates cycle if you have one, or choose a cool wash with a slow spin speed.
Alternatively, you can hand wash your curtains using cool water and either your usual laundry detergent or a gentle soap.
Finally, if you have a steam cleaner – use your upholstery attachment to clean your curtains, working from the top down. If the material becomes wet, hold the appliance further away from the curtain.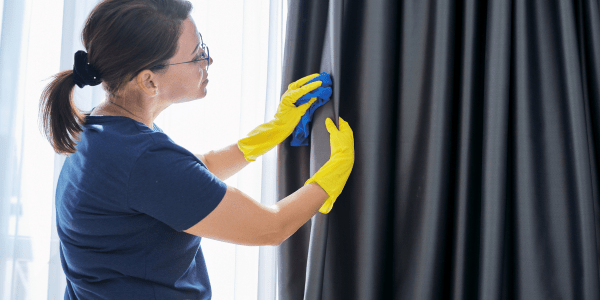 How to Clean Shutters 
Vinyl or MDF shutters are possibly the lowest maintenance window option, as both can be easily wiped down with a duster or cleaning cloth to remove marks. Our Hollywood shutters are completely waterproof, so you never need to worry about warping or watermarks when cleaning.
For wooden shutters you can dust using a microfibre cloth, or clean stains using a very slightly damp cloth. As soon as the mark is gone, dry with a clean cloth to prevent marks.
For both types of shutters you can use a vacuum cleaner with the soft furnishings or brush attachment for speedy cleaning.